Motor accident injury insurance claimants have had their say on the Queensland CTP claims process in MAIC's most recent claimant survey. This year, MAIC identified two main areas of improvement from the survey, including the ease and speed of the claims process, as well as improving accessibility to treatment and rehabilitation.
Our most recent survey was issued to almost 2,000 claimants from October – November 2021 and was provided to eligible* CTP claimants. The results from the survey also told us that there is a need for continual improvement of the quality of service provided by insurers to the direct claimants. However, we also believe that this might be a reflection on the difficulty of the claims process overall, rather than a direct reflection on the insurers.
Results showed that claimants who felt as though the process was easy and quick, both in relation to the claims process, and treatment and rehabilitation process, also reported positive results in other metrics.
Treatment and rehabilitation continue to have a high importance rating, therefore remaining a focus when reviewing outcomes of the claimant survey results. As a result, MAIC continues to focus on initiatives which ensure claimants receive timely support and ease of access to treatment and rehabilitation. Ease and speed of the claims process has other factors to consider, such as fraudulent and exaggerated claims, and from the results we understand that we need to place further attention towards this matter.
MAIC will continue to release the claimant survey to allow for continual improvements and to gain insights and understanding about how our claimants experienced the CTP process.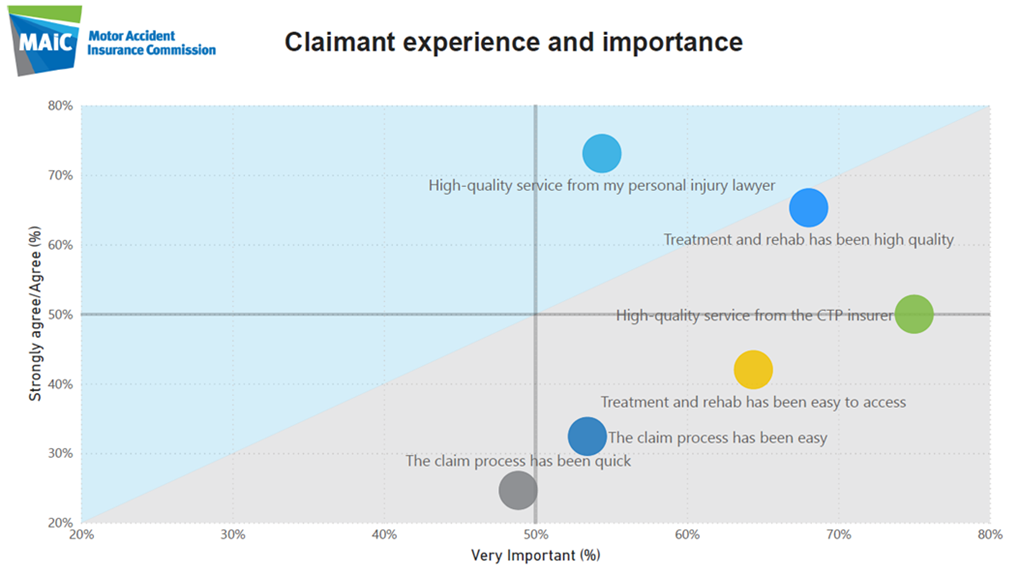 * Eligible CTP Claimants, defined as:
claims notified between July 2020 and March 2021
all direct claims (open and closed), and all open legally represented claims
liability fully, or partially accepted
severity 1-4 (based on the highest severity injury using Abbreviated Injury Scale (AIS) coding)
claimant was at least 18 years of age at time of accident
accidents in Queensland.