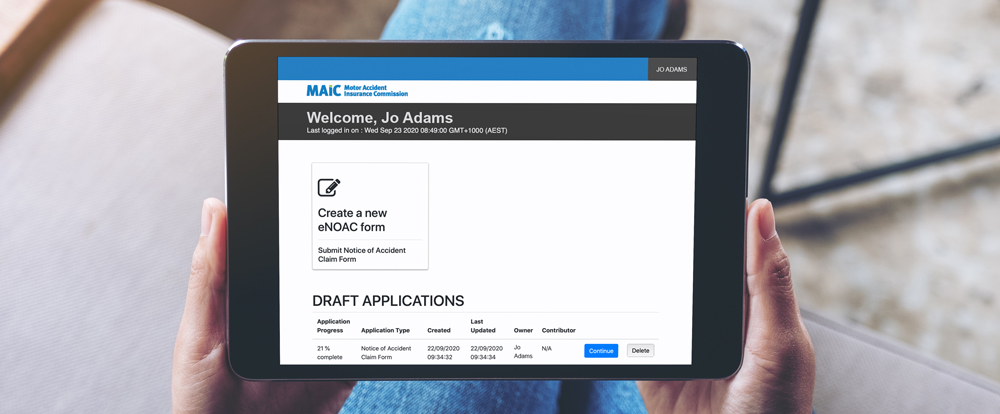 We're uncovering opportunities to improve the way that Queenslanders access support through our Compulsory Third Party (CTP) insurance scheme.
Last year, we began exploring with industry stakeholders how digitisation could enhance the experience of people who lodge a CTP insurance claim. Our consultation revealed significant industry appetite for digitising key aspects of the claims process. The COVID-19 pandemic also underscored the need for responsive, digital services for Queenslanders.
The first stream of this digital claims innovation project looks at converting our paper-based Notice of Accident Claim (NOAC) form into a webform called the 'eNOAC'.
The eNOAC aims to make it faster and easier for people who have been injured to submit their claim form and subsequently access treatment and rehabilitation. It's part of our commitment to encouraging the speedy resolution of claims so that Queenslanders can recover more quickly and fully from injuries sustained in motor vehicle crashes.
We're here to support all Queenslanders, so we'll continue to provide the paper-based Notice of Accident Claim form for those who wish to use that option.
The eNOAC is currently being tested by a select group of industry stakeholders to identify improvements and gather feedback and ensure that claims can be safely transmitted through the system. We're calling this the 'beta testing' phase and we're grateful to everyone involved in this for helping us to make the eNOAC the best it can be.
We look forward to launching the eNOAC to the public and industry in the coming weeks. Stay tuned for more updates.
Learn more
We'd love to hear your thoughts on this initiative. Share your feedback via innovate@maic.qld.gov.au.