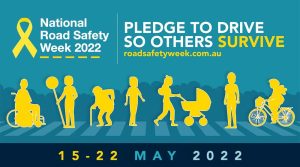 Each year, approximately 1200 people are killed on Australian roads and another 44,000 are seriously injured.
National Road Safety Week will be held from 15 to 22 May, and encourages us all to take a moment to remember the lives lost and lives forever changed because of road trauma.
You can do your bit to make our roads safer. Pledge your commitment to drive so others survive, wear a yellow ribbon to raise awareness, and encourage your friends and family to always take care on the roads.
Each day of the National Road Safety Week will focus on a different road trauma theme that affects our communities:
Sunday 15 May – 'Remember the 1200' asks Australians to remember the lives lost on our roads
Monday 16 May – 'The Road to Zero' calls on us to take a pledge to drive so others survive
Tuesday 17 May – Road trauma – the true impact' is about travelling safe so we can all live without injury and trauma
Wednesday 18 May – 'Protect our protectors' is about slowing down to protect those who protect and assist us
Thursday 19 May – 'How safe is my car?' encourages us to think about safety when choosing a car
Friday 20 May – 'Let's all get home safe' asks us to slow down and look out for pedestrians
Sunday 21 May – 'Share the road' reminds us to give each other the space needed to be safe
Sunday 22 May – 'Take care on regional roads' calls on us to slow down, be alert and drive to the conditions.
Visit roadsafetyweek.com.au for more information.