The Road to Recovery – Rehabilitation following a motor vehicle accident brochure aims to provide rehabilitation information to injured people who have lodged a CTP insurance claim.
The brochure describes the importance of rehabilitation, how to access funding for rehabilitation services, and the responsibilities of the CTP insurer and the injured person who has the CTP insurance claim.
Under the Queensland CTP insurance scheme, people injured in motor vehicle accidents may be entitled to funding for their rehabilitation and medical treatment expenses if they were not at fault for the motor vehicle accident.
Reasonable and appropriate services such as medical consultations, physiotherapy, psychological counselling, medication, chiropractic care, return-to-work programs, vocational counselling and job retraining, may be covered under the scheme depending on the type of injury.
This brochure has been developed in consultation with health and legal professionals and CTP insurers.
How to obtain the brochure: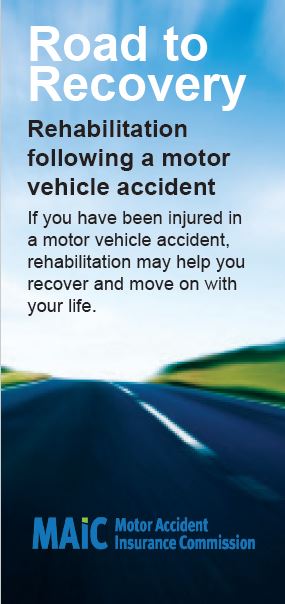 To obtain the brochure you can:
The Road to Recovery brochure is currently under review due to the implementation of the new National Injury Insurance Scheme Queensland (NIISQ). As of 1 July 2016, NIISQ will provide necessary and reasonable treatment, care and support to anyone who sustains a NIISQ eligible serious personal injury in a motor vehicle crash regardless of fault.