The Hon. Cameron Dick MP, Treasurer and Minister for Trade and Investment, has requested that MAIC conduct a review of Queensland's CTP insurance scheme to identify opportunities to improve the scheme's sustainability. The review will not consider any changes to the CTP scheme's premium setting process or compensation benefits for people who are injured.
Queensland's CTP insurance scheme is the most affordable in mainland Australia and delivers fair and timely compensation and rehabilitation support to people injured in road crashes through no fault of their own. The last review of the scheme occurred in 2016, and it is appropriate to conduct a fresh look at the scheme to ensure it is continuing to work for Queenslanders.
Discussion paper
As part of the 2023 review, MAIC has released a discussion paper seeking feedback on Queensland's CTP scheme from key industry stakeholders and the wider community.
The discussion paper addresses a range of issues facing the CTP scheme and seeks feedback on opportunities to improve the scheme for Queenslanders.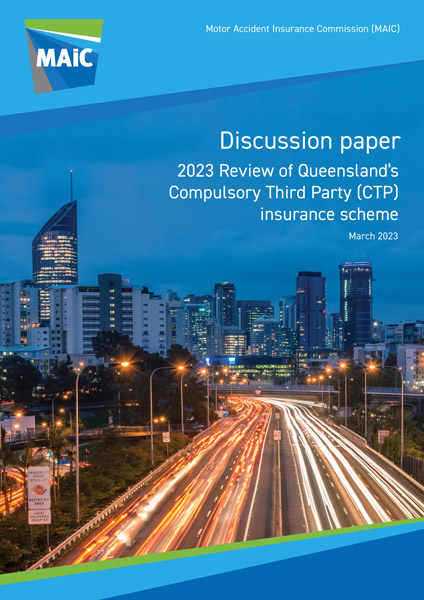 MAIC is committed to providing inclusive and accessible services to Queenslanders from all culturally and linguistically diverse backgrounds. If you have difficulty in understanding the discussion paper, you can contact us on the enquiries line 1800 CTP QLD (1800 287 753) and we will arrange an interpreter to effectively communicate the discussion paper to you.
Your feedback on this discussion paper is invited. All submissions must be in writing. Ideally, we encourage you to respond to all of the questions posed, where possible. Please send your written submissions to the email or postal address below.
Submissions close at 5pm on Friday 21 April 2023.
All submissions will be published on the MAIC website within two weeks of the closing date for submissions. If you do not want your submission published and would prefer all or part of your feedback to remain confidential, please indicate this in your submission. Submissions not marked as confidential may be published in full or quoted in public documents or may be available to applicants under the Right to Information Act 2009.
CTP scheme review team
Telephone:

1800 CTP QLD (1800 287 753)

Address:

Motor Accident Insurance Commission
GPO Box 2203
Brisbane QLD 4001