MAIC has today announced the investment of $5 million in funding over the next 3 years to assist the 12,000 Australians living with a spinal cord injury.
This investme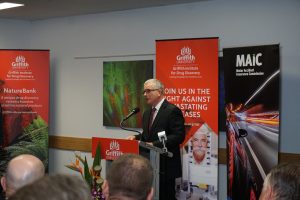 nt will support the work of the Griffith Institute for Drug Discovery (GRIDD) who are developing a treatment, using cells isolated from the nose, to produce a 3D biodegradable cell bridge over the injury site. This research builds on the extensive work of current Australian of the Year Professor Emeritus Alan Mackay-Sim.
Dr James St John, Head of the Clem Jones Centre for Neurobiology and Stem Cell Research at Griffith University, will lead the project working alongside a team of skilled research staff. Dr St John's team are developing an innovative method of purifying and implanting the cells and will trial this method in animal models.
Motor vehicle accidents continue to be the predominant cause of newly recorded traumatic spinal cord injuries with young males and individuals between the ages of 15 to 24 most at risk. A spinal cord injury is a devastating condition which can affect anyone at any time. The recently introduced National Injury Insurance Scheme (NIIS) has been pivotal in providing lifetime care and support to individuals with spinal cord injury.
MAIC will continue to support research to provide better outcomes for those injured in motor vehicle accidents.