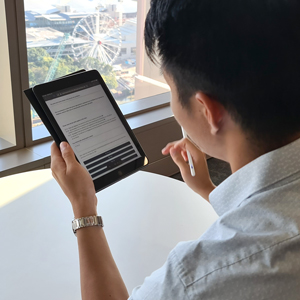 A suite of online forms is now available to help manage compulsory third party (CTP) insurance claims. Located within the Queensland CTP claim portal, the forms aim to enhance the experience of people lodging claims, their legal representatives, and industry stakeholders.
Online claim form (eNOAC)
The Online claim form (eNOAC) was released in December 2020 to help individuals and legal representatives lodge CTP insurance claims more quickly, easily and securely. It is equipped with interactive information boxes, built-in insurer search, and behavioural nudges to help people complete the claim form and start their journey to recovery. Learn more.
Online medical certificate
Our new Online medical certificate is securely and conveniently bundled within existing software that medical practitioners use, to expedite this important step. Information on the medical certificate can be accessed through the Online claim form on page 6. Selecting this option allows users to receive an email with their personalised code and instructions for their medical practitioner. This email can be used at the medical appointment to guide the practitioner through completing a medical certificate online. Find out more.
Online rehabilitation and reimbursement requests
The Queensland CTP claim portal offers an online form for requesting rehabilitation or reimbursement of rehabilitation expenses. The form aims to make it quicker and easier for people to access reasonable and appropriate rehabilitation through our safe and secure portal. Like the Online claim form, it offers help functions that assist users to complete the form more fully. It also features branching questions which change according to previous answers and the facility to upload documents like receipts or medical referrals. Visit our website to learn more.
Online treatment plan
Rehabilitation providers can now submit a treatment plan online to outline how they propose to help a person recover from injury. The treatment plans are located within the Queensland CTP claim portal. Learn more about Online treatment plans on our website.
Industry webinar
To learn more about these new features, join our online webinar on Wednesday 15 September at 9:30am. We will discuss each of the above forms and provide a live demonstration. To attend the webinar, simply click here on the day: http://bit.ly/ctp-innovation.
The journey continues
Each of these tools was co-designed with stakeholders embracing the latest technology to more easily and promptly guide people through their journey to recovery. To get involved: