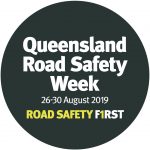 One in two Queenslanders have experienced a motor vehicle crash or know someone who has. Last year, 245 people were killed on Queensland roads and more than 5,606* people were seriously injured.
During Queensland Road Safety Week (QRSW) from 26 to 30 August 2019, MAIC is joining the Department of Transport and Main Roads and Queensland Police to encourage everyone to put road safety first.
Insurance Commissioner Neil Singleton says, "we are proud to support this important initiative to help keep every Queenslander stay safe on our roads."
"As the regulator of Queensland's Compulsory Third Party (CTP) insurance scheme, we are dedicated to reducing the incidence and severity of motor vehicle crashes.
"It's an essential part of keeping CTP insurance premiums affordable for Queensland motorists," Mr Singleton explains.
Putting road safety first is a challenge that we need to face together. We're all getting busier and often multi-task to get through the day – even when using the roads.
During QRSW, we're asking all road users to make road safety their number one priority every time they use the road by any mode or means.
Here are some ways you can put road safety first during QRSW 2019:
Check out the QRSW 2019 event calendar and attend a local event near you.
Start a conversation with your family, friends and community and share how you put #roadsafety1rst on your social media accounts.
*Data as at 30 October 2018