Rideshare drivers in Queensland are now able to transition into their new Compulsory Third Party (CTP) insurance class. Due to the Queen's Birthday public holiday, CTP insurers can begin to accept Class 26 or 'booked hire' class changes from 3 October 2017. Individuals operating rideshare vehicles who are currently in Class 1 (cars and station wagons), Class 6 (utilities and vans <4.5t) or limousines who were previously in Class 4 (hire vehicles) are eligible to apply.
Class 26 premiums for 2017-18 are $552.50 for a 12-month registration. 6 and 3 month (direct debit only) options are also available. MAIC engaged actuaries to set the premium band using interstate relativity estimates and historical data on rideshare vehicle usage. All Queensland CTP insurers – Allianz, QBE, RACQ and Suncorp – will accept applications to transition to Class 26.
The creation of a new CTP class for booked hire vehicles has been introduced alongside new Department of Transport and Main Roads (DTMR) licencing and vehicle standard requirements for rideshare operators. These changes ensure the safety of passengers, increase competition and support Queensland's rideshare industry in its adaption to new technologies. There is a generous grace period until 14 January 2018 for drivers of rideshare, limousines and rental vehicles to prepare for and meet the new requirements.
To continue operating a vehicle as a rideshare vehicle after 15 January 2018, DTMR has created a helpful infographic which details the steps required: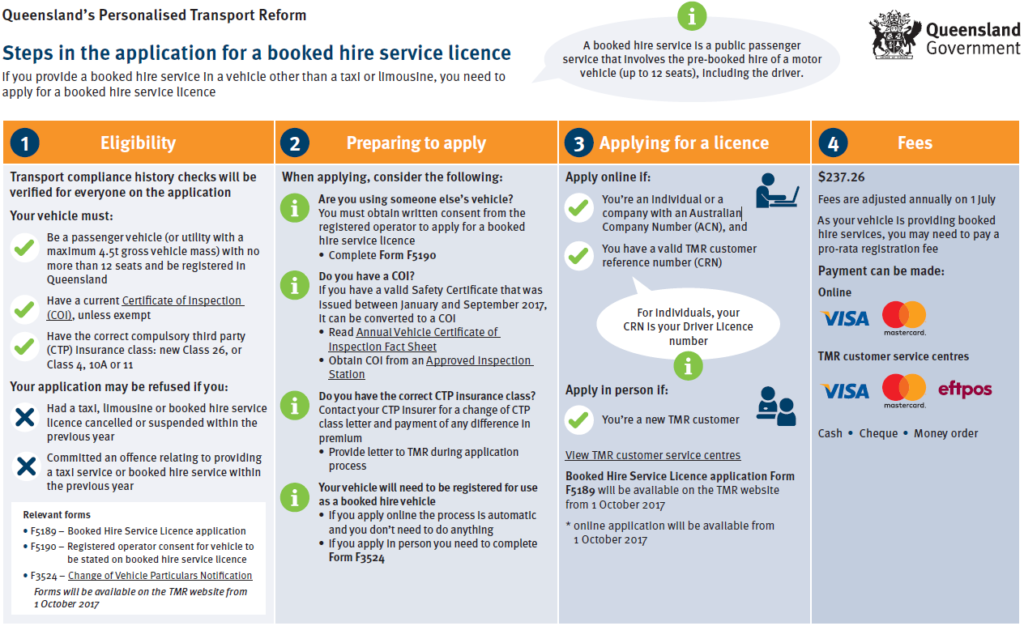 Additional Resources
For additional information about DTMR's personalised transport services (or rideshare) reforms, please visit www.personalisedtransport.tmr.qld.gov.au.
If you wish to calculate the CTP premium for Class 26, please visit www.maic.qld.gov.au and use the CTP Calculator.
Have a Question?
Should you have any queries about the Class 26 CTP premium, please contact MAIC on 1800 CTP QLD (1800 287 753) or email maic@maic.qld.gov.au.
Should you have any queries about the licencing, vehicle inspection and vehicle requirements, please email DTMR at personalised.transport@tmr.qld.gov.au.