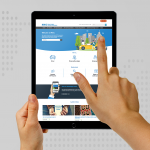 This year, the MAIC team unveiled a suite of strategic enhancements to our website. It's part of our commitment to continuous website improvement to align with contemporary best practices and facilitate a positive user experience for our valued stakeholders.
Homepage overhaul
With over 100,000 visitors each year, the homepage of the MAIC website is a key platform for us to support Queenslanders and educate them about CTP insurance.
When visitors land on our new homepage, we start by explaining who we are and what we do. This welcome message is followed by a list of links to our stakeholders' favourite webpages to reduce the time they spend searching. It's paired with an image depicting a driver and a person with an injury, to reflect and engage the stakeholders who visit our website most frequently.
To begin this journey, we tested a series of scenarios to better understand the behaviour of our website users. This testing confirmed that people who visit our website for the first time will have a better experience if we understand which stakeholder group they represent in order to provide them with relevant content. That's why our new homepage prompts users to identify themselves as a driver, person with an injury, or service provider, to receive a customised experience.
It was also essential for us to provide to quick access to our stakeholders' preferred features. The popular CTP calculator, CTP insurer lookup and Report a car crash scammer webform were given prime real estate on the homepage along with icons to help users to quickly identify and access their favourite tools.
One of the most common challenges faced by website users is cognitive overload from receiving too much information on a webpage to process. That's why our new homepage adopts a simple and minimalistic design tailored to the needs of each of our stakeholders.
Striking new scheme knowledge centre
The Scheme knowledge centre is a one-stop-shop for stakeholders to learn about our CTP insurance scheme and its performance. The recent update introduces a structured visual layout to capture attention and facilitate easy navigation. It features four key categories to enable curious readers to delve into different aspects of our CTP insurance scheme.
Boosting accessibility
Innovative software was integrated into the MAIC website to help Queenslanders of all abilities to understand CTP insurance and the claims process. A tool called Browsealoud can read aloud website text and translate text into different languages by simply clicking the 'Speak' button at the top-right corner of our site.
But wait, there's more.
We look forward to continuing to improve our website to ensure it remains relevant and accessible to Queenslanders. If you have a suggestion for how we could improve, we'd love to hear it. Contact us.