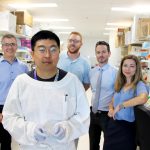 Rising Griffith University researcher, Dr Mo Chen, has been recognised with a Research Australia Health and Medical Research Award.
These awards celebrate the researchers, doctors and community champions who are working to transform the health and medical research sector and change lives.
Dr Mo Chen received the Griffith University Discovery Award for his pioneering work on a 3D-printed cellular nerve bridge system for Australians living with spinal cord injury.
The Spinal Injury Project aims to produce a 3D biodegradable olfactory cell nerve bridge seeded with olfactory ensheathing cells that can be transplanted to repair chronic spinal cord injury.
It's set to revolutionise treatment and recovery for over 21,000 Australians living with spinal cord injury. Hear Dr Mo Chen talk about his passion for this project and his hopes for its future.
As part of its commitment to funding research into road safety and rehabilitation, the Motor Accident Insurance Commission (MAIC) has provided funding for stages one and two of the Griffith University Spinal Injury Project.
The project is being conducted by researchers within the Clem Jones Centre for Neurobiology and Stem Cell Research, which is within the Griffith Institute for Drug Discovery and the Menzies Health Institute Queensland.
In addition to spinal cord injury, there is potential to utilise Dr Chen's cellular nerve bridge technology to treat other conditions, particularly those related to peripheral nerve injuries and potentially brain injuries.
In 2020, the application of Dr Chen's technology to peripheral nerve injury led to a senior research team in the Centre being awarded the Marshall and Warren Innovation Award by the National Health and Medical Research Council.
Work on the Spinal Injury Project continues, with the research team planning a clinical trial which will incorporate use of the nerve bridge system coupled with an intensive physical rehabilitation program.
Learn more about the important research that MAIC supports.