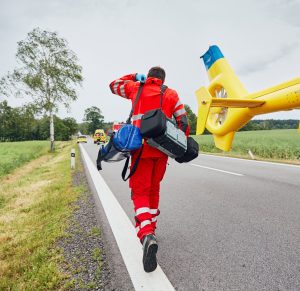 MAIC recently approved funding to Emergency Medicine Foundation (EMF) to establish a Special Grants program that will enhance the involvement of clinicians based in regional, rural and remote Queensland in research.
Road crashes and Queensland CTP claim statistics reveal fewer crashes occur overall in regional and remote Queensland, but they result in more fatalities and serious injuries. This is reflected in the finalised claims costs in these areas being proportionally higher than those in South East Queensland.
MAIC's Manager Research and Grants, Matt Waugh said EMF will shortly call for expressions of interest from clinicians to be involved in Round 1 of these research grants.
"MAIC's funding of these grants will open up opportunities to utilise research outcomes to improve trauma management across our vast state. Applying evidence-based approaches has the potential to stimulate more effective initial treatment and management that will have a positive impact on all Queenslanders living in regional and remote areas," Mr Waugh said.
"Our funding will benefit both those injured in road trauma as well as clinicians in terms of enabling effective diagnosis of injury, enhancing initial treatment and management plans. This shot in the arm for regional research in Queensland has the potential long-term to decrease the number of patients needing to be transferred to other areas.
"By supporting clinicians across regional and remote Queensland, MAIC aims to encourage a reduction in claims costs and enhanced quality of life going forward for those impacted by road trauma in regional and remote Queensland," Mr Waugh said.
MAIC's investment in this new program will boost enhanced trauma management in regional, rural and remote Queensland by:
Funding research to create an evidence base for best practice emergency care for trauma patients in regional, rural and remote Queensland.
Identifying key barriers to optimal emergency care for patients and solutions to overcome barriers through the translation of research findings into best practice, evidence-based health policy and practice.
Build enhanced research capacity for trauma and emergency healthcare clinicians in regional, rural and remote Queensland.
For more information or to express an interest in applying for one of the new grants please visit the Emergency Medicine Foundation