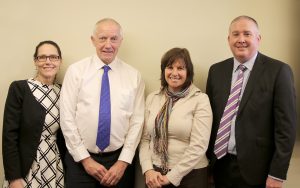 As part of Brain Injury Awareness Week (15 – 21 August) MAIC, together with Metro South Health, held a special morning tea to raise awareness of acquired brain injury and its impact on the patient, their family and friends.
It also provided an opportunity to recognise an important partnership between the two agencies that will provide Queenslanders with brain injuries the care and support they need on their path to recovery.
This year, MAIC partnered with Queensland Health to establish a pilot transitional rehabilitation service that will provide patients with access to specialist rehabilitation services that focus on supporting their transition back into work and the community.
Metro South's Acquired Brain Injury Transitional Rehabilitation Service (ABI TRS) is a first for Queensland and, with the ABI TRS implementation plan now in full swing, the service is aiming to accommodate its first clients in January next year.
MAIC is proud to partner with Metro South Health to deliver this vital transitional rehabilitation service for Queenslanders with brain injuries and have contributed $14.6 million in funding to support the roll out of the five year pilot.